Moments Mark the Days of Our Lives: Attorney de Haan Honored with Lifetime Achievement Award
Posted on February 19, 2018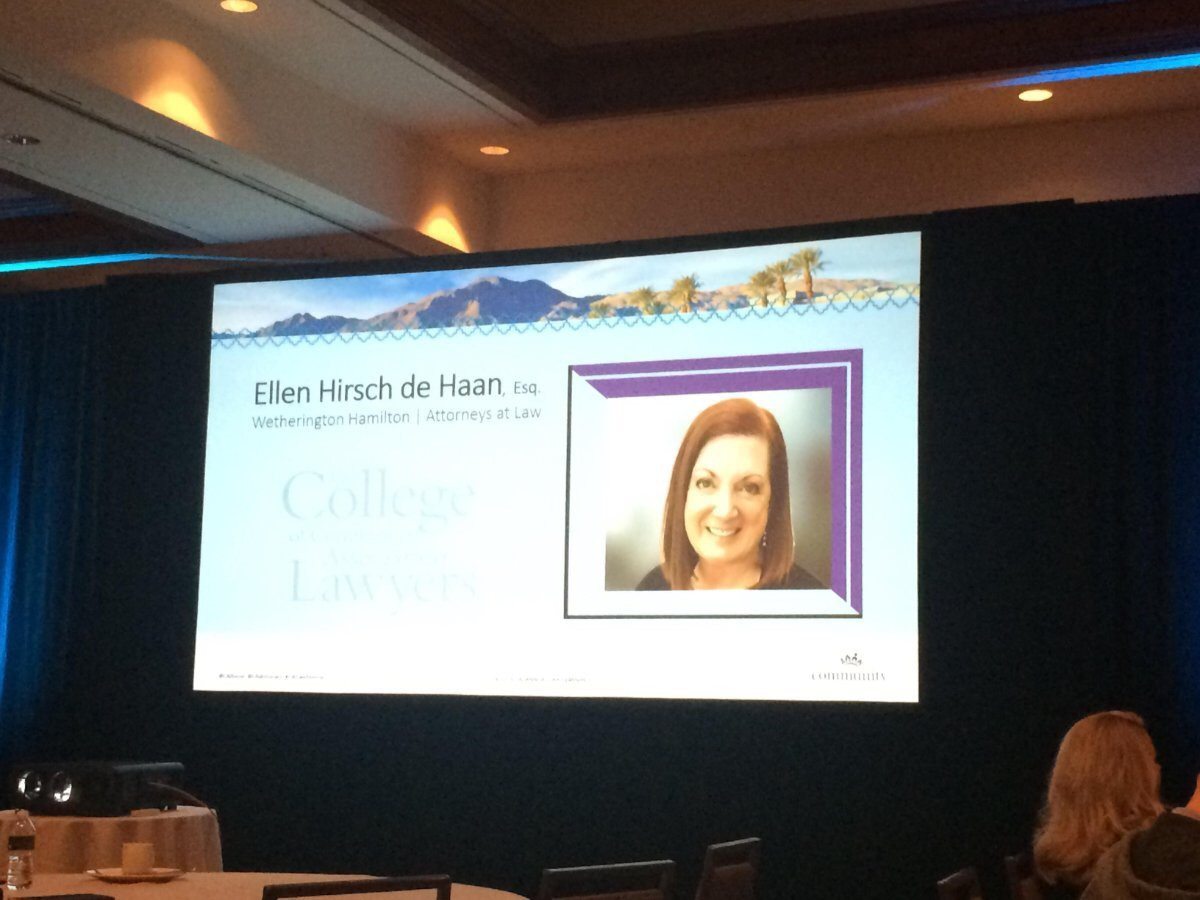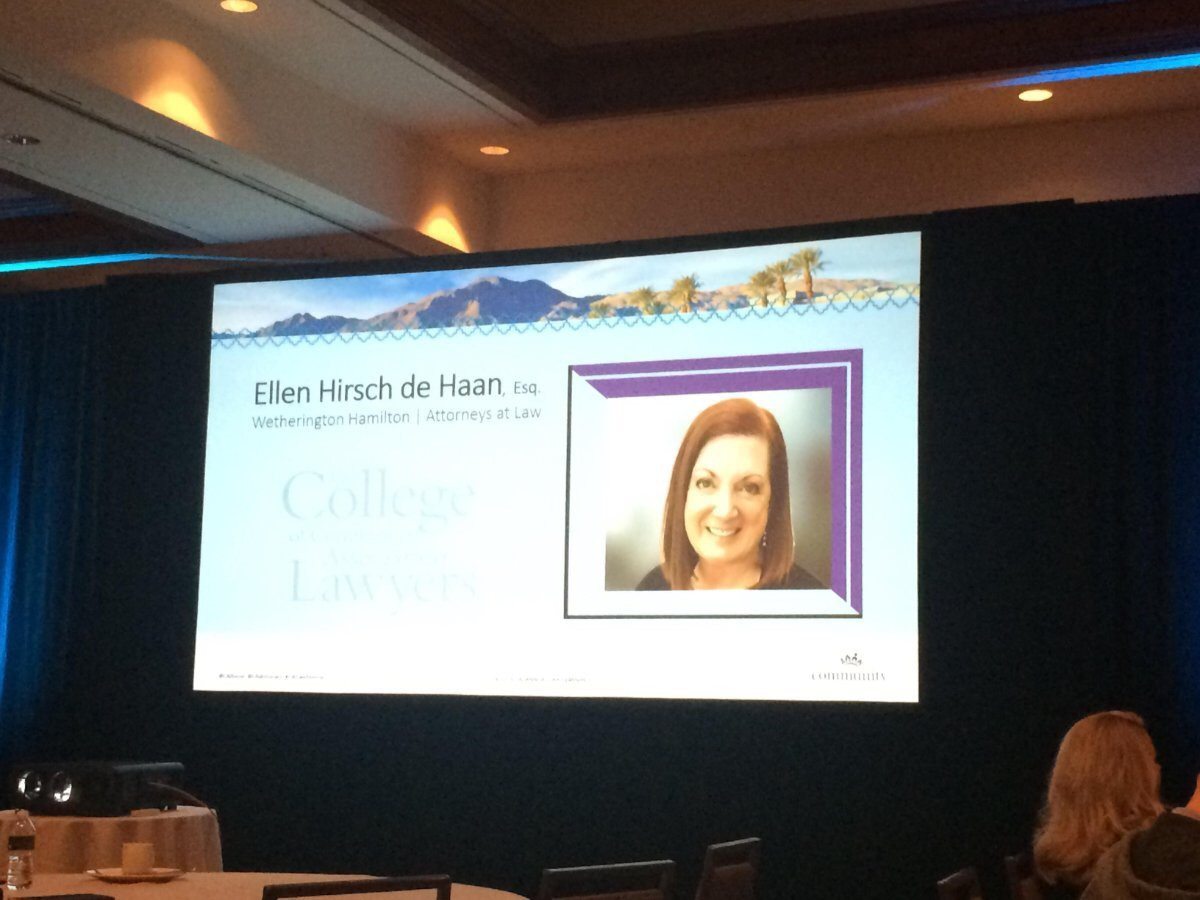 On February 2, 2018, I received the Don Buck Lifetime Achievement Award from the College of Community Association Lawyers, at the National Law Conference in Palm Springs, California. The award recognizes attorneys who exhibit exceptional leadership in the field of community association law. It is given to recognize attorneys who have made extraordinary contributions to the community association industry and practice of law, and who have demonstrated a strong "mentoring spirit." This award is given at the discretion of the Board of Governors of the College of Community Association Lawyers, and since its creation in 2008, it has only been given five times. I am the first woman to receive the award.
There is nothing like being recognized by your peers from all over the country, and I still haven't fully absorbed it all. Receiving the award wasn't the culmination or end of my career. It was a Moment.
A Moment is what I call a milestone in my life which stands out as special or pivotal, an event which heralds a change in direction and opportunity, and events which open a door into the unknown, the untried, unexpected, and the very scary. The day my sister died was a Moment. My wedding day was a Moment. The day I passed the Florida Bar was a Moment. Changing jobs after 28 years was a Moment.
There have been life-changing Moments: the day I met my husband; getting accepted to Law School.
In my life, I changed careers a number of times until I settled on the practice of law. During those years, I worked as a secretary, a teacher, an administrative assistant, a paralegal, a disco dance instructor, and a macrame instructor. I became a public speaker, and have sung in public as well (which was much more terrifying than the speaking).
I have been a community association lawyer for 34 years now (and counting), and have worked with associations as small as 2 units and as large as thousands of homes. And there is no manual to guide the attorney through community association law practice.
In the early days, when I walked into a client meeting, the men in the room said "You're the attorney?" When I started in the practice, the widows who were now on the board of directors didn't know how to write checks or keep the books for the associations.
I have represented some clients for more than 30 years, and others off and on over the years. I have worked with naturalist (nudist) communities (and ladies, despite what your mother told you, you can go wrong with a simple string of pearls). Clothes or no clothes the issues, questions and problems are the same.
My career has included the initial implementation of the Fair Housing Laws related to children and 55 and over communities, and I now advise on emotional support animals. We have dealt with suicides and other deaths in the communities. A rude message to the Board was written on the cabana bath wall in human waste.
I have watched the increasing erosion of civility which evidences itself at board and membership meetings, and in emails written in the wee hours of the morning and personal attacks on the individual directors and managers (and occasionally on the attorney).
Yet, every week there are calls and meetings which end in expressions of thanks for my help, and the appreciation for finding a positive solution. And, every week brings something new and different. Throughout the years, by necessity, I have developed into a creative problem solver.
A few years ago, a friend noted that she was going to an award banquet where they were giving a lifetime achievement award. At the time, the idea wasn't anything I contemplated or expected to be part of my life.
And here I am, the recipient of a lifetime achievement award. And having a Moment.
My Moments have combined to color my choices each time I came to a crossroad. I wear my Moments as a string of pearls, reminding me of what is important in life and celebrating each one an integral part of who I am today.
Ellen Hirsch de Haan has over 30 years of experience practicing homeowners and community association law. She regularly teaches classes on the subject to further educate homeowners and property managers alike. Ask to join our email list to learn more by contacting marketing@whhlaw.com.